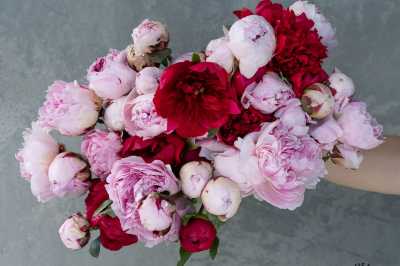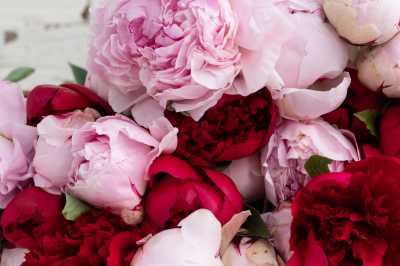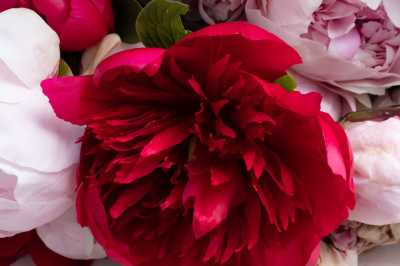 The Big-ish Box: Peonies!
Fifty stems of everyone's favorite flower – P-E-O-N-I-E-S!
Details, Details, Details
"The Big-ish Box: Peonies" is a design-it-yourself farmer's choice assortment of 50 (!!!) stems of Oregon-grown peonies that ships straight to your (or your recipient's) doorstep in a bulk box that measures approximately 26" x 10" x 7" and weighs around 10 lbs.
Assembly required – Receiving, processing, and arranging "The Big-ish Box: Peonies" takes time, space, energy and know-how. For that reason, we do not recommend gifting "The Big-ish Box: Peonies" unless your recipient is an experienced at-home arranger with the time, space, and energy to tackle an abundance of stems.
Patience required – Peonies arrive in a mostly budded form (we lovingly call them "lollipops") that will, with proper care, blossom a day or two after delivery. If you're ordering "The Big-ish Box: Peonies" for a special event have it arrive early to ensure it's blooming on the big day.
Wilty as charged – Peony foliage may arrive looking wilted but it's not an indication of poor flower health. Simply remove any especially thirsty looking leaves before re-homing your peonies to a vase and enjoy.
Please note: This product is Farmer's choice. What does this mean? Our farms will send the best of the best from their crop, so the variety/varieties you receive may not be identical to what is pictured above. Sorry, we cannot accommodate specific requests for varieties but we promise to only send the cream of the crop.
Questions/comments/concerns about your Big Box? To better assist you, please be prepared to provide detailed photos and an account of how you processed, stored, and arranged your flowers. Thank you!
This one is in the books!
This product is no longer available but we have so many other amazing options!
Shop Available