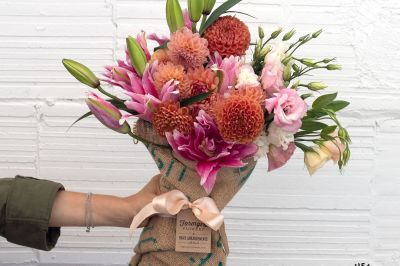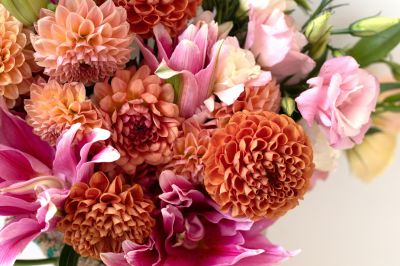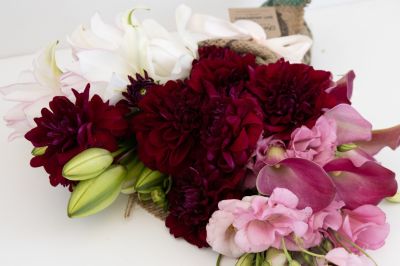 Dahl House Plus
The only thing miniature about Team Farmgirl's "Dahl House Plus" is the steal of a deal it's going for!
Details, Details, Details
"Deal of the Week: Dahl House Plus" is a design-it-yourself assortment of seven calla lilies, seven stems of lisianthus, three roselilies, and seven first of the season ball dahlias all rolled up in a piece of our signature wrap – burlap!
Flowers arrive ready for a quick trim, your design prowess, and a vase (or vases!) of your choosing from your private collection.
Not safe for pets! According to the ASPCA, many of the flowers and foliage we and other florists use aren't safe for pets but lilies are especially toxic. Keep you and your's furry friends safe by keeping "Deal of the Week: Dahl House Plus" out of their reach or behind closed doors.
Pictures shown are recent examples of an actual arrangement that we designed and later sent out to a customer just like you! Please note that while we don't guarantee what the flower varieties or colors will be, we do guarantee that your specific arrangement will be fresh, beautiful, and that your recipient will love it!
This one is in the books!
This product is no longer available but we have so many other amazing options!
Shop Available