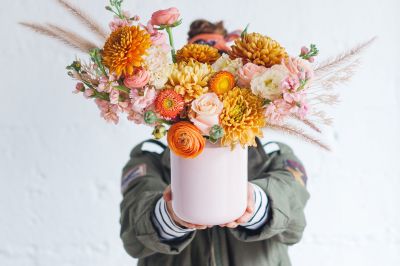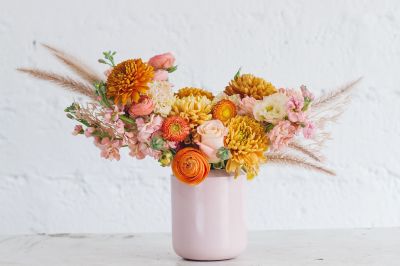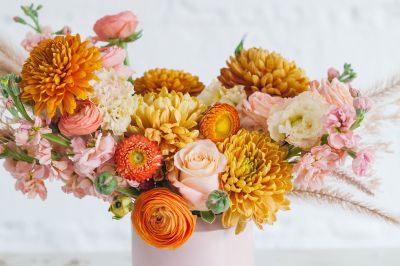 Fall for It
Pumpkin spice and everything nice, that's what this 360-degree (that's fall flowers all around y'all) vase arrangement is made of.
Details, Details, Details
"Fall For It" is a vase, vase baby arrangement that comes with approximately twenty-five flowers in a pick of the patch petal palette of straw, mustard, coral, and peach!
Arrangement ships designed, hand-tied, and ready to snip, drop, and go into the custom lilac-toned metal vessel included with shipment that measures 5" in diameter and stands 6" in height.
We'll ship your stems on the longer side to help keep the bouquet healthy during transit, but you'll need to remove some length so the arrangemenets sits pretty in the 6" tall vase. Pro tip: trim so that the lowest bloom starts ½" above the lip of the vase.
Our promise to you and your recipient is to always ship the freshest, highest-quality stems we can source from our growers. In order to stay committed to quality (and because we work with Mother Nature) this occasionally may mean we need to make a substitution for color and even flower choice. Please note that while we cannot guarantee the exact color or what the exact flower varieties will be, we do guarantee that your specific blooms will be fresh and beautiful.
Due to unforeseen circumstances, we may sometimes need to substitute the vessel paired with this product. In these rare instances, we will replace the vase shown with another that is both appropriately sized for this arrangement and of equal or greater value than the original vessel.
This one is in the books!
This product is no longer available but we have so many other amazing options!
Shop Available