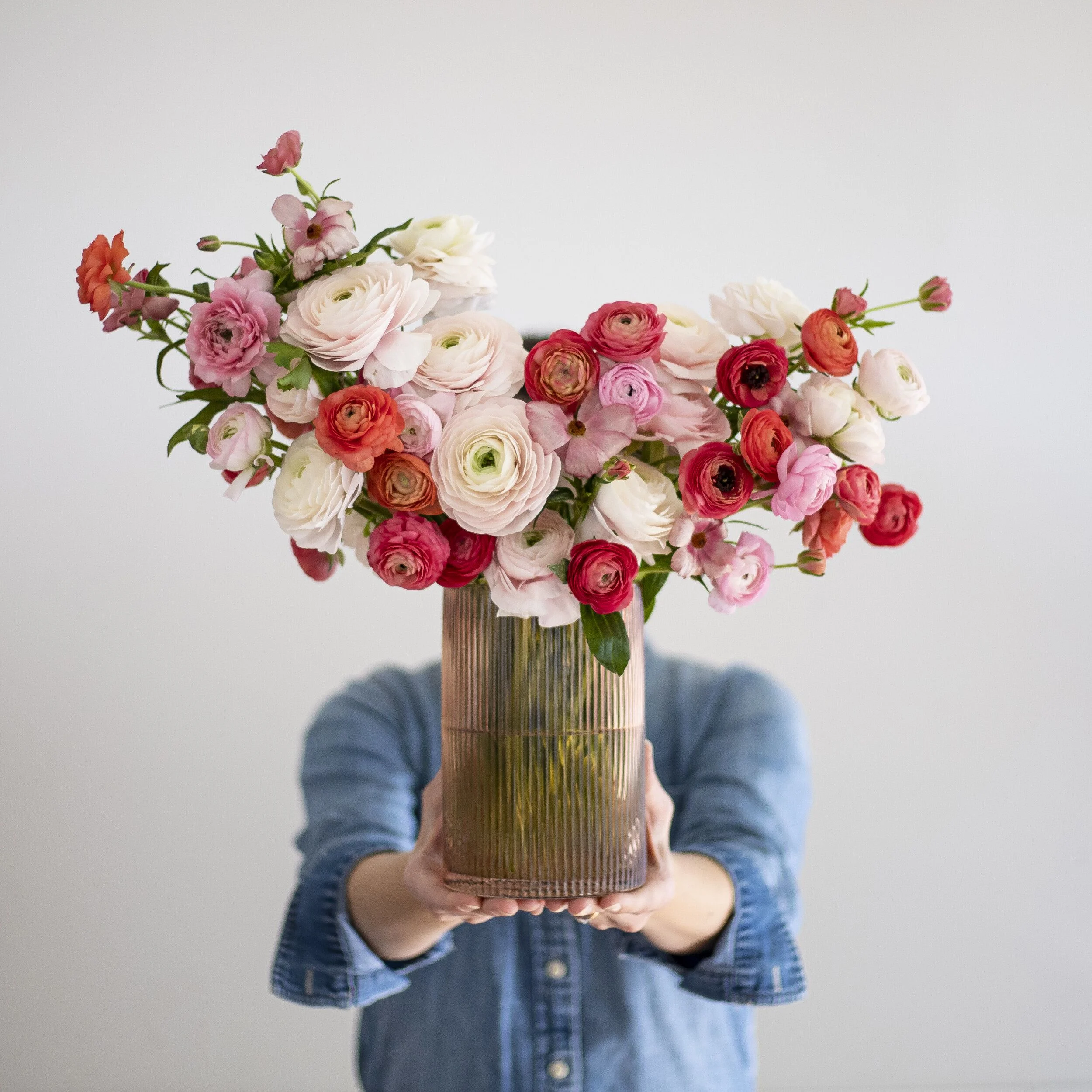 Not to get all sappy, but with Valentine's Day just around the corner, we're sensing some serious L-O-V-E in the air (and TBH, who doesn't deserve a little extra love right now amirite?!). So however you plan on spending this February 14th (with your bestie, bae, or just Y-O-U), we want to make sure it's super special; because if the past twelve months have taught us anything at all, it's to double down on the joy. And since flowers play such a major part in so many of y'all's V-Day celebrations, we wanted to take a moment to share about ten years' worth of tips for ordering and gifting Farmgirl in a short(ish) and sweet (hopefully!) FAQ format. Here we go!
Psst - if we don't answer your question in this FAQ, we'd love to help! Just reach out to us - either at farmgirlflowers.com/contact-farmgirl, or on Facebook or Instagram @farmgirlflowers. Happy reading and Happy Valentine's Day!
First things first. When's the best time to order an arrangement for Valentine's Day - or for that matter, any other major holiday (Passover, Easter, Mother's Day - we're looking at you!)?
Whether you've been shopping with us for years or are brand new to Farmgirl (hello and welcome!), we tend to sell out fast so the best time to order an arrangement for a major holiday like Valentine's Day is as soon as possible.
FYI - A common misconception is that ordering early means receiving less-than-fresh flowers, but since we don't design your bouquet until the day it's shipped this simply is not the case.
So to make sure you receive the flowers you want on the day you want them, be sure to place your order absolutely as soon as possible.
Which days are you delivering for Valentine's Day this year?
Excellent question! Although delivery dates vary from arrangement to arrangement (each of our bouquets has unique availability), in general, we deliver Monday through Friday.
What does all that mean for a weekend holiday like Valentine's Day this year? That means as of right now, our last delivery date before Sunday, February 14th, 2021 is Friday, February 12th. And if past Valentine's Day is any indication, the 2/12 delivery date will be the first to sell out.
So what's the best day to have my Valentine's flowers delivered?
With COVID causing unpredictable delays, our best tip is to choose a Wednesday 2/10, or Thursday 2/11 delivery date. Why? If your order is impacted by a delay, we'll have the time to set up redelivery and make it right ahead of Valentine's Day.
While we totally get the logic of choosing Friday 2/12 (a date that is as close to the actual holiday as possible) it can mean that if something happens with your flowers, despite our best efforts, we're not able to get you a fresh set of flowers ahead of Valentine's Day.
Another reason to order for early delivery? Can you imagine the major brownie points you could rack up for surprising your recipient ahead of the holiday?! If this is something your recipient would appreciate, then go for it!
And if you're concerned about keeping your flowers fresh until Valentine's Day – we hear you! And we've got a few tips for that! Keep reading.
Why do different products have different delivery availability?
Farmgirl operates from multiple distribution centers between California, Florida, and Ecuador, so while delivery availability has always been unique to each arrangement (because of things like flower availability, designer time, our shipping partners' capacity, and more), this Valentine's Day it's based on even more logistical factors.
With that in mind, please note that if you see one arrangement available for delivery on Friday 2/12, for example, that does not mean that all of our arrangements will be available for delivery on that date, too.
My flowers will be delivered two or more days before Valentine's Day. How do I keep the flowers fresh until 2/14?
If early gifting isn't in the cards, here's what to do:
Chop, chop! As soon as your Farmgirl box arrives (we'll send you the UPS or FedEx tracking number so you're notified as soon as they're dropped at your doorstep) unbox your flowers and trim the stems. Why trim? Trimming helps your flowers hydrate efficiently and trust us, they're going to be thirsty after their overnight journey to you (just imagine how you'd feel after an overnight flight!).
Wanna go for gold? Trim your stems at an angle (45˚ is perfect!) to ensure that the stems don't sit flush with the bottom of the vase, which can prevent the flowers from absorbing the water they need to stay fresh and beautiful.
Extra, extra! We carefully make, wrap, and ship each and every arrangement but sometimes, flowers are flowers! See a broken stem? Not to worry! We always ship one to a few extra stems (it depends on the arrangement) for these "just in case" situations. So once you trim and drop your stems into the vase, remove any broken or bruised blooms, and rest assured you're still getting the full stem count.
Everything in its vase! Next, place your flowers in a vase full of cool tap water so they can get hydrating (and don't forget to add the packet of flower food that came in the box). Some quick #vasebasics while we're on the subject, if your arrangement came with one, use it! If not, find one from your personal collection or get creative. We like to repurpose glass jars, glassware, pitchers, and other common kitchen items in a pinch. Whatever you use, just make sure the flowers can sit more or less upright in the vase (without topping over the edge) and aren't too crowded.
Design 101. This step is optional, but flex your budding (see what we did there) design skills and get arranging! Here at Farmgirl, we love the look of staggering stem heights and going for a "v" shape that's a bit higher on the left-hand side than the right.
If you ordered a designed arrangement, it will arrive in this configuration (and the stems should be taped or tied to keep the stems in position). Just simply cut and release the tape or tie once you've trimmed the steps before dropping the bouquet in a vase.

If you didn't order a designed arrangement, give it a shot! And if you're in need of some arranging inspiration and/or how-to, we've got lots of design tutorials on our YouTube and Instagram. Check us out!
5. Patience is the key! Rome wasn't built in a day and any bouquet isn't its most beautiful self right out of the box. Real talk - even when we take our website photos we have to follow all of these same steps to get the petals picture perfect. So trust us and trust this process – it works!
Bloom, baby, bloom! We send most varieties out unbloomed or half-bloomed so after all of the aforementioned care tips and a bit of time (a couple of hours or a couple of days - it depends on the variety), your flowers will thank you by blooming. Enjoy!
For more tips on caring for your cut flowers (or plants!), visit www.farmgirlflowers.com/care.
I'd rather wait until Valentine's to unwrap my flowers. Will they be OK in the box for a day or two?
Again, it's best practice to trim your cut flowers and place them in water the moment you receive them. For that reason, we don't typically recommend keeping your flowers in their box after they make it to your door. Because in general, the longer you wait, the more you risk the freshness of your stems.
However, we understand that many of you prefer to leave the unboxing to your recipient. If you're in this situation, then our best advice depends on timing:
If you're planning on gifting a couple of hours after delivery (e.g. your flowers were delivered in the AM and you're gifting in the PM), you can be reasonably sure your flowers will be ok in the box. Just make sure to store them in a cool, dark place (we like basements, closets, or unused bathrooms) and gift them ASAP for freshness' sake!
If you're planning on gifting more than a few hours after delivery, follow all of the instructions in the question above but add the two following steps:
Save the wrapping! Save the wrap, the box, the ribbon, and whatever other trimmings and trappings you'd like your recipient to unwrap. Pro tip: Take pictures as you unwrap post-delivery so you can rewrap and box the bouquet just the way it came.
Keep it cool. Once you have your bouquet hydrating in a vase (either the one it came in or one from your personal collection), find a cool, dark place in your home (again, we like basements, closets, or unused bathrooms) and stash your bouquet there for safekeeping until you're ready to gift.
I want to place an order but I'm worried that recent storms or COVID-related delays will impact the delivery. What do I do?
We understand how incredibly frustrating it can be when you expect your flowers on a certain day and they don't make it on time, especially if you've ordered for a holiday like Valentine's Day, a birthday, an anniversary, or any other special occasion. And believe us - we're just as frustrated as you are when this happens! We work hard to source top-quality flowers, design beautiful bouquets, and package them carefully, so we hate it when a delay beyond our control goes and throws a wrench in the works!
That said, while we may not always be able to control the circumstances that occasionally prevent your flowers from being delivered to you on time, we always guarantee that we'll make it right in the event that a delay happens.
If your order is delayed, we will always do our best to let give you a head's up (if and when possible), and we will always make it right either by sending you a fresh delivery (on us!) on the soonest available delivery date, or issuing a full refund if the occasion has passed.
We know there are so many things none of us can rely on right now, but we hope that you can at least count on us to make things right if your order is ever affected by a delay. Don't hesitate to reach out to us at farmgirlflowers.com/contact and we'll be happy to help.
Finally, we humbly ask that you stay patient with us when you reach out to our Customer Support team - or through Facebook, Instagram, or Twitter - during the weeks around a holiday. Our team's biggest priority at all times is to respond to your calls, emails, DMs, and comments absolutely as soon as possible.
Holidays are our busiest time at Farmgirl and even as our team works 'round the clock to get back to each of you, we still get an extremely high increase in requests, and it can take some time for us to respond. Please know that we respond to every single request in as timely a manner as possible and are doing our very best to respond to your message.

Thank you!