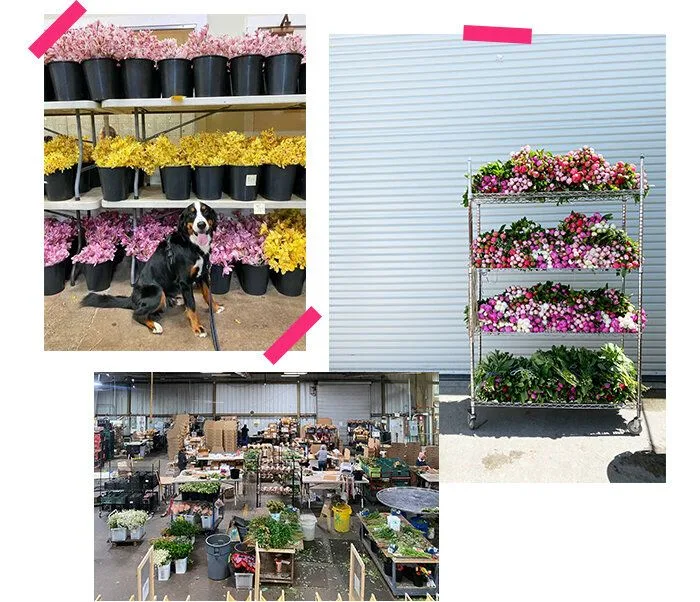 Hey there,
Well - it's official. Another Mother's Day is in the books.
I was talking to some of our team members after production wrapped up at one of our facilities last night and I realized that this Mother's Day officially marks my forty-fourth Farmgirl holiday. Forty-fourth. Even though I've lived through each and every one of these holidays, it still kind of blows my mind that I've designed, wrapped, boxed, and done customer support into the wee hours of the night almost fifty times.
For any of you new to Farmgirl, those forty-four holidays I've got under my belt are eleven sets of Thanksgivings, Christmases, Valentine's Days, and Mother's Days. All four are extremely high-volume periods for us, though none are bigger - or have higher stakes - than Mother's Day. A financially successful Mother's Day means we can weather a summer "slump" (as we so lovingly call it) until business picks back up come fall. And, thankfully, even though most think Valentine's Day is a waaaay bigger deal (turns out all that teddy bear and red rose-ridden, male-focused marketing is pretty effective), more people have a mom or a mom-type figure in their life they want to celebrate. And this means Mother's Day pretty much becomes the floral equivalent of the Super Bowl for Farmgirl - only instead of sixty minutes of gameplay stretched over four hours of commercials and halftime we "play" for five days straight.
So all that to say this week, just like the ten that came before it, was a big week. Team Farmgirl shipped a record number of orders. I made my first NYC press trip since the COVID-19 pandemic and began to demo how to make a DIY Mother's Day bouquet on Live with Kelly and Ryan - which I'm still kinda pinching myself about. And millions of stems of flowers passed through our designers' hands - a half million of which were the much anticipated first peonies of the season.
All these metrics (and so, so many more) run through my head like ticker tape during a holiday. Because whether I'm on a boxing line, hurriedly rearranging the website after products sell out, trying to get our hands on even more flowers so we can avoid that sell out in the first place, or problem-solving last-minute logistical or operational issues - it's almost impossible to turn the CEO part of my brain off. I feel like I'm constantly calculating the potential risks of another shipping delay. Or the loss we'll take on a certain product when a farm doesn't come through and we have to repurchase the same flowers we pre-booked six to twelve months ago with a wholesaler for a significantly higher price. Or weighing if I made the right call on how many orders we should take without making Farmgirl so vulnerable to risk that recovery would be impossible if something out of our control happens (I'm looking at you, Valentine's Day 2021).
It's all flowers in, flowers out. Money in, money out. And, of course, gut checking the risk versus potential reward. And since it's pretty much one giant slide from when orders pick up for Thanksgiving until we wrap up our "holiday season" with Mother's Day, I realized yesterday that I've been living over half of each year for the past eleven years with that ticker tape running endlessly through my head. Welcome to my life. It's noisy here.
But while all of that "noise" is important - those dollars and cents are what make the business work year-round, even and especially when we're not in our holiday season - Farmgirl holidays are also about so much more than the numbers. Because all of those metrics wouldn't have been possible without Team Farmgirl - almost 250 people spanning both North and South America (along with some of their friends and even some previous team members who came back to help!). They are the incredibly hardworking hands, bodies, and minds behind everything from the products we create, to the flowers we source and receive, to the emails we send, to the bouquets we design and ship, to every email from a customer we reply to. There's so much more - and so many more people - that makes what we do possible (believe me, even I had no idea...) and their persistence, their passion, and the grace with which they weather these crazy busy and stressful times humbles me. When I recall some of the earliest holidays - when it was mostly me, myself, and I - I am even more grateful for the incredible group of people who dedicate their time, effort, and energy to me and to Farmgirl.
And, of course, weeks like this would never happen without all of you, too.
I remember my first holiday. It was Thanksgiving 2010, which was three weeks after I launched the company. "We" (meaning I) probably had a whopping seventeen orders. It felt like a big deal back then, even though I'm 100% sure that sixteen of those were placed by friends or family members trying to support my new venture. So today, when we're shipping tens of thousands of orders in a single day? It never fails to blow me away that something I started in my dining room in a tiny apartment on Van Ness Avenue in San Francisco has grown into a brand that so many of you love and turn to for something as important as showing the people in your life that they are loved, too.
So - thank you. Thank you, thank you, thank you for giving me the chance to grow a crazy idea I had one day into the business it's become. And for giving me the opportunity to grow a crazy, amazing team along the way. I'm forever grateful for all of it. And for all of you.
Wishing you a happy Mother's Day weekend if you're celebrating, and if not, then exactly the type of day that you need. I'll be spending mine curled up on the couch, laptop within arm's reach, getting some of that ticker tape into spreadsheets for a few holiday recap meetings next week. And while that might not sound like the dictionary definition of a happy place, it's definitely mine. I'm hoping you find some time in yours - whatever that looks like for you - too.
xx,
Christina