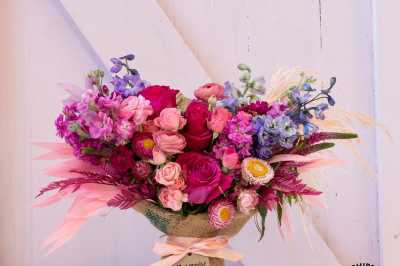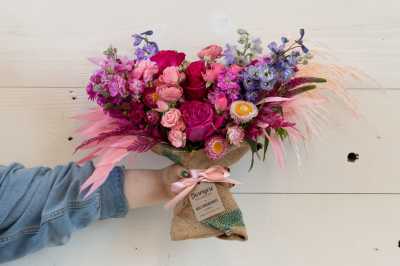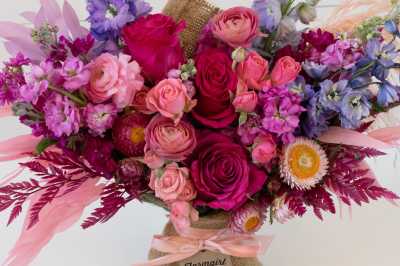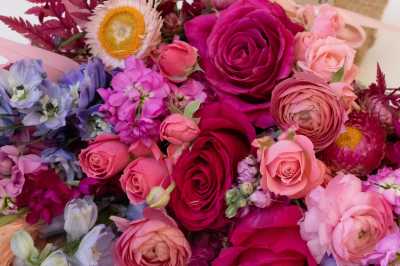 Conversation Hearts
In-our-humble-opinion we never found conversation hearts to be much of a treat so this Valentine's Day we reimagined this bomb of a bonbon into something decidedly more delightful – a brilliant burlap-wrapped bouquet! We kept the cupid approved palette but the short and sweet messaging is totally up to you and did we mention it ships for free?!
Details, Details, Details
"Conversation Hearts" is a seasonal burlap-wrapped bouquet that comes with twenty-five (25!) stems of blooms and bits in candy-coated shades of pink, purple, and blue all bundled up in our signature wrap of choice – burlap!
Extra, extra! This arrangement includes flourishes of (nearly) everlasting preserved foliage that is preserved via a multi-step process using alcohol and wax. For quality reasons, we ship preserved foliage in a separate bundle tucked safely next to your arrangement. Upon arrival, simply tuck them into the vase around your flowers et voilà! Your masterpiece is complete.
Makes scents! The preservation process imparts a fragrance. Although it fades with time and exposure to air, we don't recommend sending it to scent-sensitive folks. Please gift accordingly.
Working with Mother Nature means we can't guarantee that the flower varieties and colors will be exactly as pictured but we can guarantee that we always ship the highest quality stems we can source from our growers and that your arrangement will be fresh, beautiful, and you (or your recipient!) will love it.
This one is in the books!
This product is no longer available but we have so many other amazing options!
Shop Available