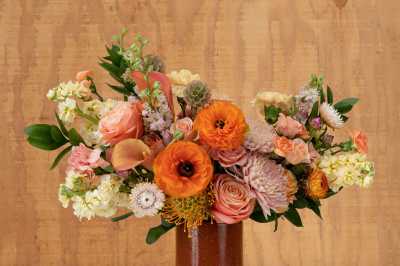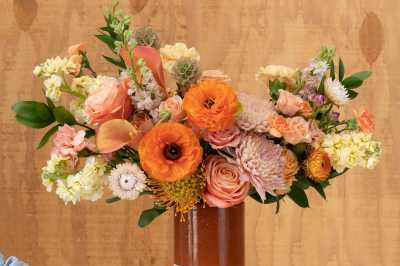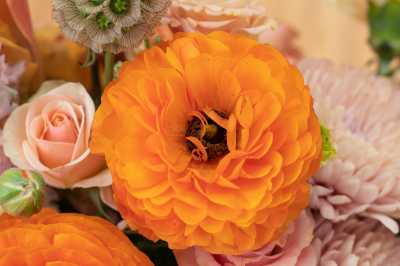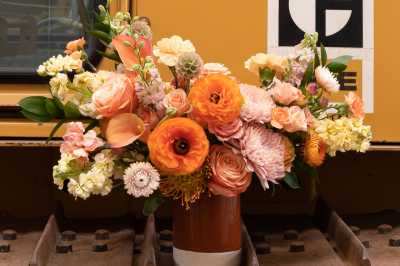 'Gram Cracker
A 'gram-worthy vase, vase baby!
Details, Details, Details
"'Gram Cracker" is a seasonal vase, vase baby arrangement that comes with approximately thirty-eight (38!) farm fresh flowers in an Instagram-worthy palette of rustic peaches and oranges!
Arrangement may include ranunculus, mums, carnations, and/or stock that arrive ready to chop and drop into the custom autumn-toned ceramic vessel included with shipment that measures 3.5" wide and 6" tall.
Proportion, proportion, proportion - Your bouquet ships best with the stems left long but it needs to be trimmed to sit pretty in the vase we paired it with. Our favorite rule of thumb? Trim so that the lowest bloom begins at the lip of the vase!
The Farmgirl Promise: While working with Mother Nature means that we can't guarantee that the flower varieties and colors will be exactly as stated (or pictured!), we can guarantee that we will always ship the highest quality stems and that your arrangement will be fresh, beautiful, and that you (or your recipient) will love it!
Due to unforeseen circumstances, we may sometimes need to substitute the vessel paired with this product. In these rare instances, we will replace the vase shown with another that is both appropriately sized for this arrangement and of equal or greater value than the original vessel.
This one is in the books!
This product is no longer available but we have so many other amazing options!
Shop Available