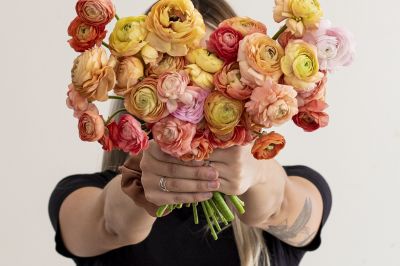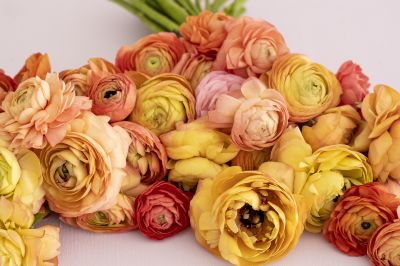 Tea For Two
We've been counting down the days until we can comfortably do anything in twos (or threes!) since March. 2020! Until then, we're letting our florals keep us company (because, Farmgirl). And high on that list? Our new design-it-yourself arrangement featuring 35 stems of pink, orange, and yellow-hued ranunculus!
Details, Details, Details
"Tea For Two" is a DIY arrangement featuring 35 pink, orange, and yellow stems of our favorite, many-petaled flower, the ranunculus!
Flowers arrive ready for a quick trim and a little processing, your design prowess and the vase of your choosing from your private collection.
Pro Tip: We send these long-stemmed beauties wrapped up safely in flexible corrugate packaging. To get your ranunculus started off right, please rehydrate them with the corrugated wrap on for about two hours and check out all of our best care tips and tricks here.
Pictures shown are recent examples of an actual arrangement that we designed and later sent out to a customer just like you! Please note that while we don't guarantee what the flower varieties or colors will be, we do guarantee that your specific arrangement will be fresh, beautiful, and that your recipient will love it!
This one is in the books!
This product is no longer available but we have so many other amazing options!
Shop Available