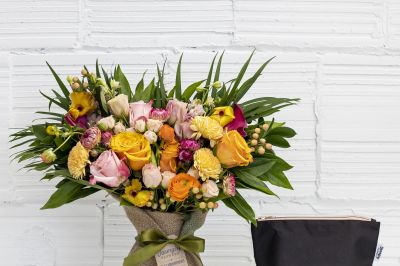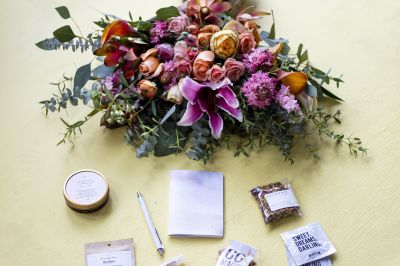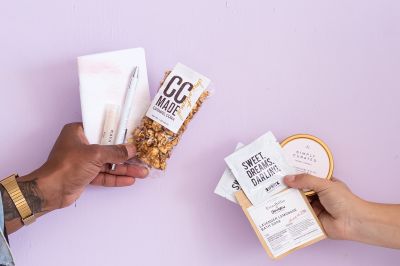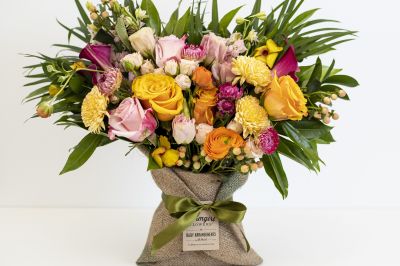 ZZ VBFF
There's best friends and then there's best friends – or as we like to call them, very best friends (VBFFs for short!). The difference? A best friend gives you a heads up before FaceTime'ing you. A very best friend? Not so much. A best friend might tell you she doesn't want anything for her birthday. But your very best friend? She emailed you a list of at least 10 different gift options (ranging in price) about six months ago.
We created "The VBFF" - our new and extra special gifts-and-flowers pairing - for the VBFF in your life. Because nothing screams forever friendship like 25 stems of fresh and fabulous floral and a (reusable!) bag full of goodies to boot!
Details, Details, Details
"The VBFF" comes with a pre-arranged bouquet of 25 seasonal blooms, bits, and greens wrapped in our signature burlap, and a special "goody bag" of gifts.
Flowers arrive ready for a quick trim, your design prowess and the vase of your choosing from your private collection.
The VBFF "goody bag" is a custom, reusable zipper bag stuffed with a surprise mix of sweet treats and self-care items to keep your VBFF feeling and smelling good (#spaday!). Although every goody bag is a surprise assortment, expect a sweet snack item or two (like caramel popcorn or chocolate) and a couple of personal care items (a scrub, bath salts, a mini notebook or a candle)! Pro Tip: Help us avoid single-use products and give your goody bag a second life as a cosmetics bag, cord keeper, or travel tote!
Pictures shown are recent examples of an actual arrangement that we designed and later sent out to a customer just like you! Please note that while we don't guarantee what the flower varieties or colors will be, we do guarantee that your specific arrangement will be fresh, beautiful, and that your recipient will love it!
This one is in the books!
This product is no longer available but we have so many other amazing options!
Shop Available