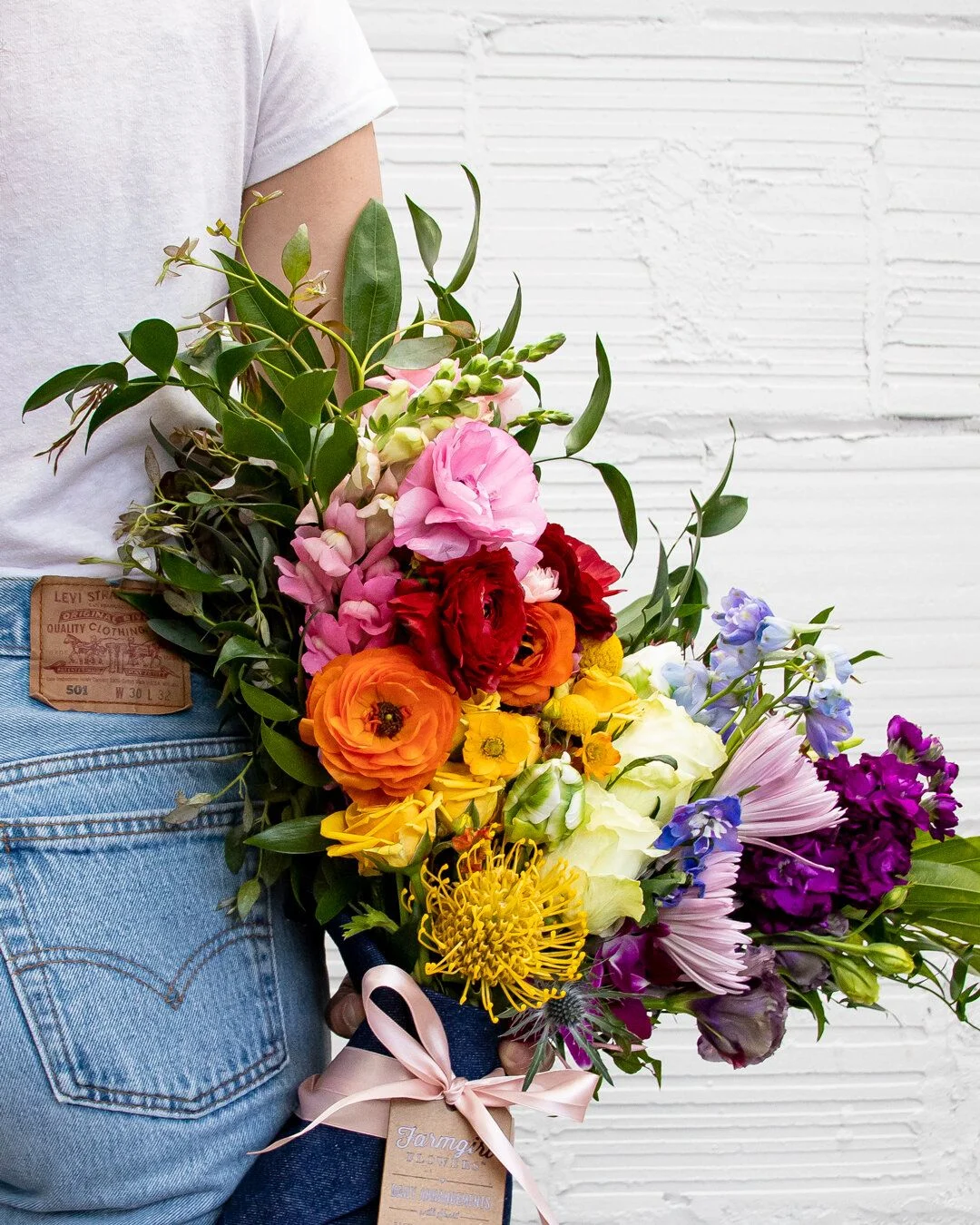 Hey there.
Team Farmgirl here!
If you've been here a while you may have heard the phrase "with heart" a time or two. Maybe you read it on a card you received your bouquet with - or maybe it was in an email from us that found its way into your inbox. At face value, it's just two words. And, at least at the surface level, when we say it we mean exactly what it sounds like. Doing something "with heart" means the difference between just going through the motions or going the extra mile. Between checking things off a list or taking your time to finish a task with the same care, precision, and thoughtfulness as if it was your first time completing it - even and especially when it's your thousandth.
But beyond all of this, when we talk about "with heart" here at Farmgirl we're also talking about how we choose to make an impact in our communities. We have always been so grateful to have the opportunity to be invited to some of your biggest, most beautiful, or hardest life moments. Anniversaries, new jobs, birthdays, heartbreaks, first-time hosting your in-laws for dinner-ings. Big, small, or perfectly ordinary and just deserving of some flowers, we're lucky to be able to "be" there for all these special moments. But as Team Farmgirl has gone from a one-woman operation in an apartment on Van Ness Avenue in San Francisco to three distribution centers across two continents (and growing!), we've looked for equally big ways to make an impact on the people and places around us. And so began our "With Heart" program.
The basic tenets are simple. For a given time period - usually, a month - our team selects a nonprofit or charitable organization with values that align closely with ours. Next, we design a special bouquet and put it up for sale on our website. For every arrangement sold, we commit to donating a set portion of the purchase price to the organization. At the end of the sales period, we tally how many arrangements we've sold and make the donation.
Since its inception in 2016, we've partnered with some incredible people and teams through our "With Heart" program to help organizations affect change at the local, state, and federal levels. Organizations like Every Mother Counts, whose mission is to make childbirth safe for every mother everywhere have led to investing over $5M globally for community-based programs focused on maternal healthcare. Or the NAACP, an over one-hundred-year-old institution that is America's oldest and largest civil rights organization with a roster of over two million members who work to disrupt inequality and dismantle racism. And finally, more recently, Planned Parenthood, delivers vital sexual and reproductive healthcare, sex education, and information to millions each year helping to ensure that all people have access to the care and resources they need to make informed decisions about their bodies, lives, and futures. With your help, we've been proud to donate hundreds of thousands of dollars to these organizations to help them continue to support, advocate for or empower the communities in which they work.
This month, Pride month, we're so excited to continue our "With Heart" program with our newest partner - The Trevor Project. Despite broad advances towards equality, LGBTQ+ youth still experience unique discrimination, family rejection, and barriers to identity-affirming support and care that put their mental health and well-being at risk. For over 20 years The Trevor Project has worked to quantify the issues that put LGBTQ+ youth's mental health at risk, identify solutions, and provide crisis intervention and suicide intervention services. Simply put, their research and resources save lives. $10 from each sale of our Pride "With Heart" collection will be donated to support The Trevor Project's critical work. To learn more about The Trevor Project we encourage you to visit their website. To learn more about how you can get involved in their work, either by volunteering or signing up for updates, visit here.
And, as always, thank you to each and every one of you. We are only able to support these organizations and communities and to continue to grow our "With Heart" program because of you and your choice to shop with Farmgirl. And we will never take that for granted.
From our hearts to yours - thank you, thank you, thank you.
xx,
Team Farmgirl
*Farmgirl has committed to donating $25,000 to The Trevor Project and $10 from each sale of this bouquet will be donated to help us meet (or exceed!) that commitment and advance their work to create a safer, kinder, more accepting world. For more information about The Trevor Project and the work they do, please visit www.thetrevorproject.org