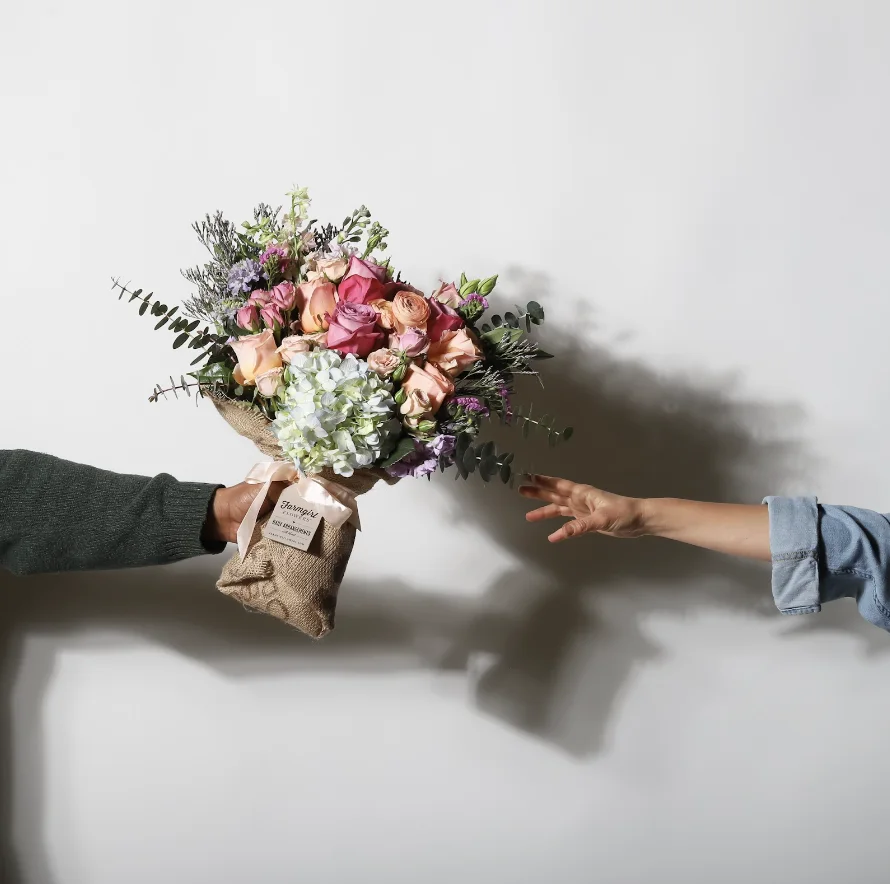 Want to see us on the regular? Then let's make this official with a subscription! Keep reading for allllll the deets on all things Farmgirl subscriptions!
We tried to hit all the major points while keeping it (sorta) brief, but if the following FAQ-style info doesn't answer all of your questions, then please drop us a line at (855)-202-3817 or shoot us an email at orders@farmgirlflowers.com. We'd love to help! On to the details!
Subscriptions!? Really?! Tell me more…
We offer weekly, bi-weekly, or monthly subscriptions on the burlap-wrapped Fun Size, Just Right, and Big Love bouquets.
How do I place a subscription order?
You can order a subscription here (just like any other arrangement). You can also place an order for a subscription by calling our Customer Support team at (855)-202-3817.
What are the benefits of having a subscription?
Although we don't offer a discount on subscription orders, if you're regularly ordering Farmgirl for your home or office having a subscription is a definite time-saving (because you're only entering your delivery and payment information once as opposed to each time you order).
During busy times like Valentine's Day or Mother's Day (when almost everything sells out on and around the holiday), having a subscription is especially advantageous because we've already planned for your order. As chronic last-minute gift buyers ourselves, this is one of the biggest perks (sort of a "set it and forget it" situation).
How different will each delivery be?
Subscription orders for burlap-wrapped bouquets and market boxes are subject to rotating design recipes and color palettes as well as what's in season. And as always, quality, freshness, and beauty are the guiding principles our design teams live by.
All that to say, no two Farmgirl bouquets are ever exactly the same (think sisters, not twins!) but expect greater variability from season to season than one week to the next.
How are subscriptions charged?
Subscription orders are charged as each delivery ships. For example, if you have a 3-month bi-weekly subscription for a Fun Size burlap-wrapped bouquet, you'll be charged $59 + shipping every two weeks for the duration of the subscription.
Suppose the method of payment attached to your subscription needs to be updated for any reason. In that case, you can make those changes via your Farmgirl Flowers account (if your subscription was placed under your account) or by reaching out to customer support by phone at (855)-202-3817 or email at orders@farmgirlflowers.com.
How do I make changes to my subscription deliveries?
If you place a subscription order while logged into your Farmgirl Flowers account, you can manage your future deliveries online (just like any other order placed under your account that has yet to be fulfilled). Use your Farmgirl account to change delivery dates (if you're going out of town) or messages (particularly handy if the subscription is a gift).
You can also reach out to Farmgirl customer support by phone at (855)-202-3817 or email at orders@farmgirlflowers.com to make changes.
Thank you and we look forward to sending you flowers soon!
xx,
Team Farmgirl