We can't be-wreath (sorry, we had to) how fast our festive foliage has been flying off the farm shelves this year! We're doing our best to keep up with demand, but while we work furiously to make more we thought we'd give you a peek into the process. So if you fancy rustling up one (or more!) of your own at home, here's how we do it!
This DIY takes about one hour (30 minutes of prep and 30 minutes of making) and makes one wreath! Here's what you'll need:
A 22"- 24" wreath ring –

available at craft and/or floral supply stores.

26 gauge paddle wire –

available at craft, floral supply, and/or hardware stores.

Clippers

– in our experience, kitchen or craft scissors aren't usually sharp enough to cut up branches of greenery, so we recommend using a pair of gardening shears here instead. Our favorite?

Chikamasa

.

Gloves

– to protect your hands because wreath making can be sappy, sticky work!

Greenery –

tis' the season for all sorts of fun options so grab an assortment or stick to one variety - it's your call! We're using a mix of eucalyptus, pine, and cedar that we got from our flower market.
Got your supplies? Great! Let's get making!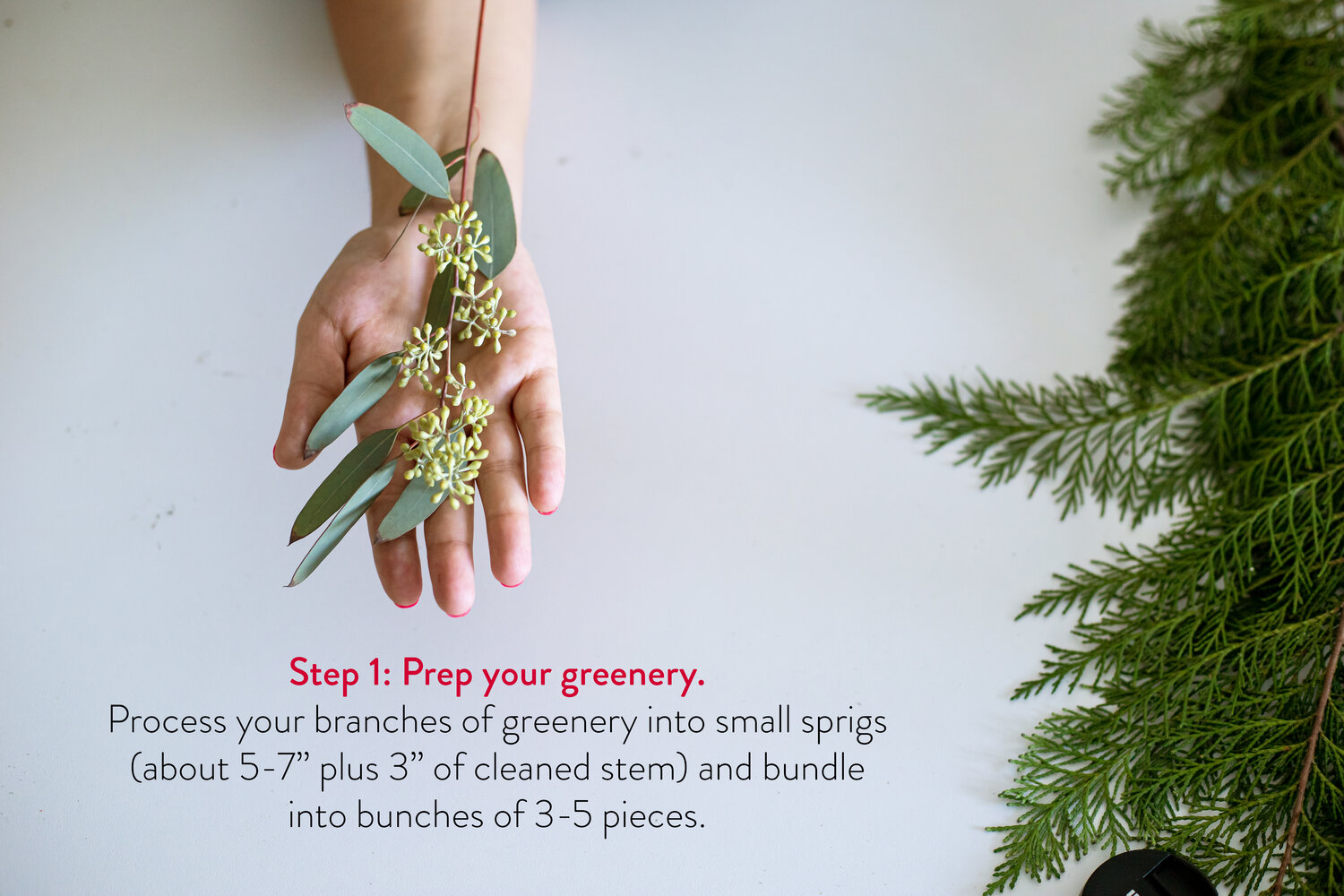 Step 1: Prep your greenery. Process your branches of greenery into small sprigs.
Pro tip: Use your hand as a size guide. Prep pieces so the foliage-full parts are about the size of your hand (5 - 7"), and leave about 3" of cleaned stem (any shorter and it's tricky to attach to the wreath base later on). Need a visual? Check out the photo below!
Next, bundle your prepped sprigs into bunches of 3-5, and get ready your wreath ring and paddle wire handy for the next step.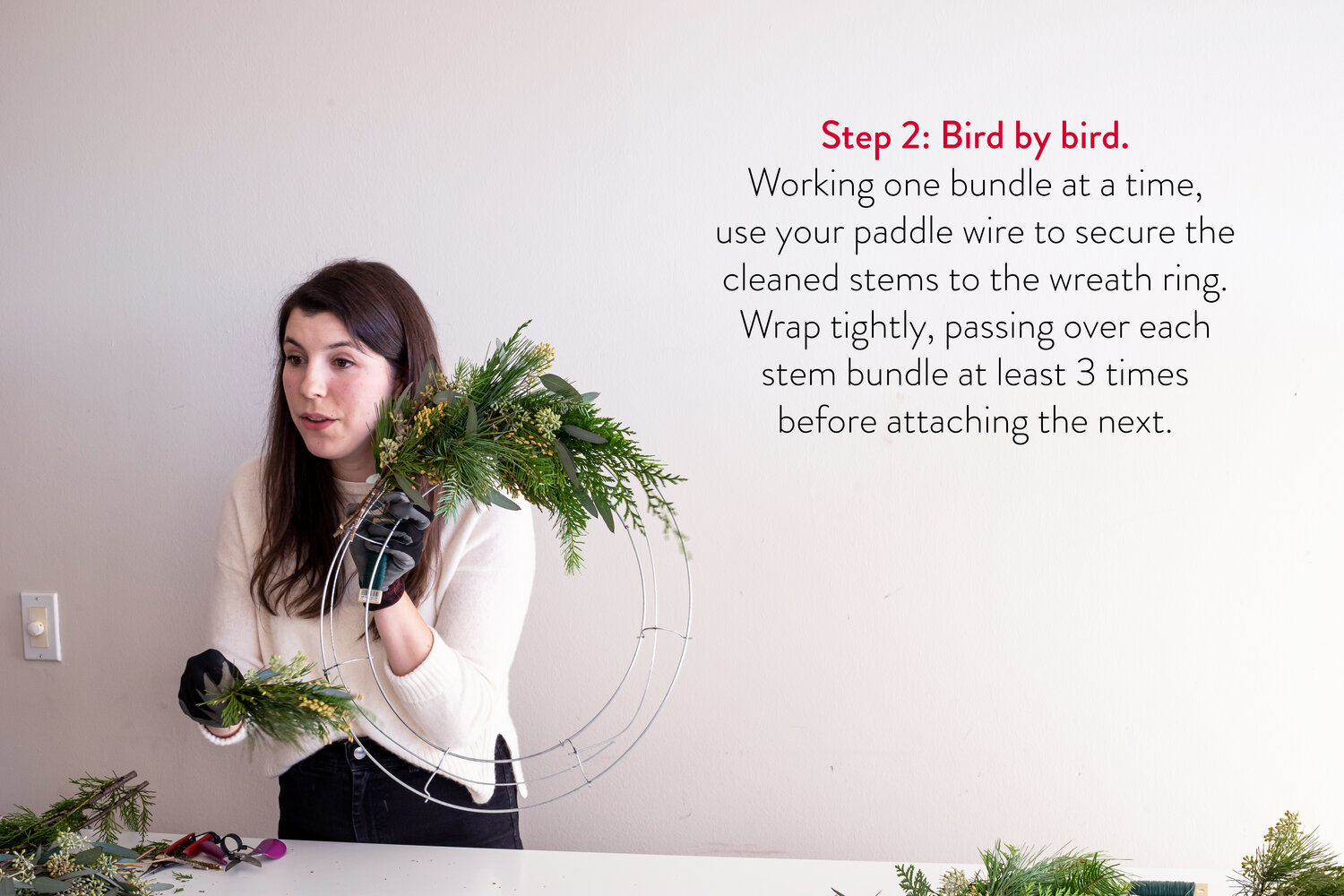 Step 2: Bird by bird.
Working with one bundle at a time, use your paddle wire to secure the cleaned stems to the wreath ring. Make like you're braiding and wrap tightly, passing over each stem bundle at least three times before attaching the next. FYI: We don't bind the bundles together before attaching them to the wreath base, but you can if you want your wreath to be extra secure or you know your greenery will lose a lot of mass as it dries.
Pro tip: For a fuller look, overlap each bundle by about 3" and alternate the placement of each bundle so one faces slightly inward (towards the center of the wreath), the next faces slightly outward, and so on and so forth.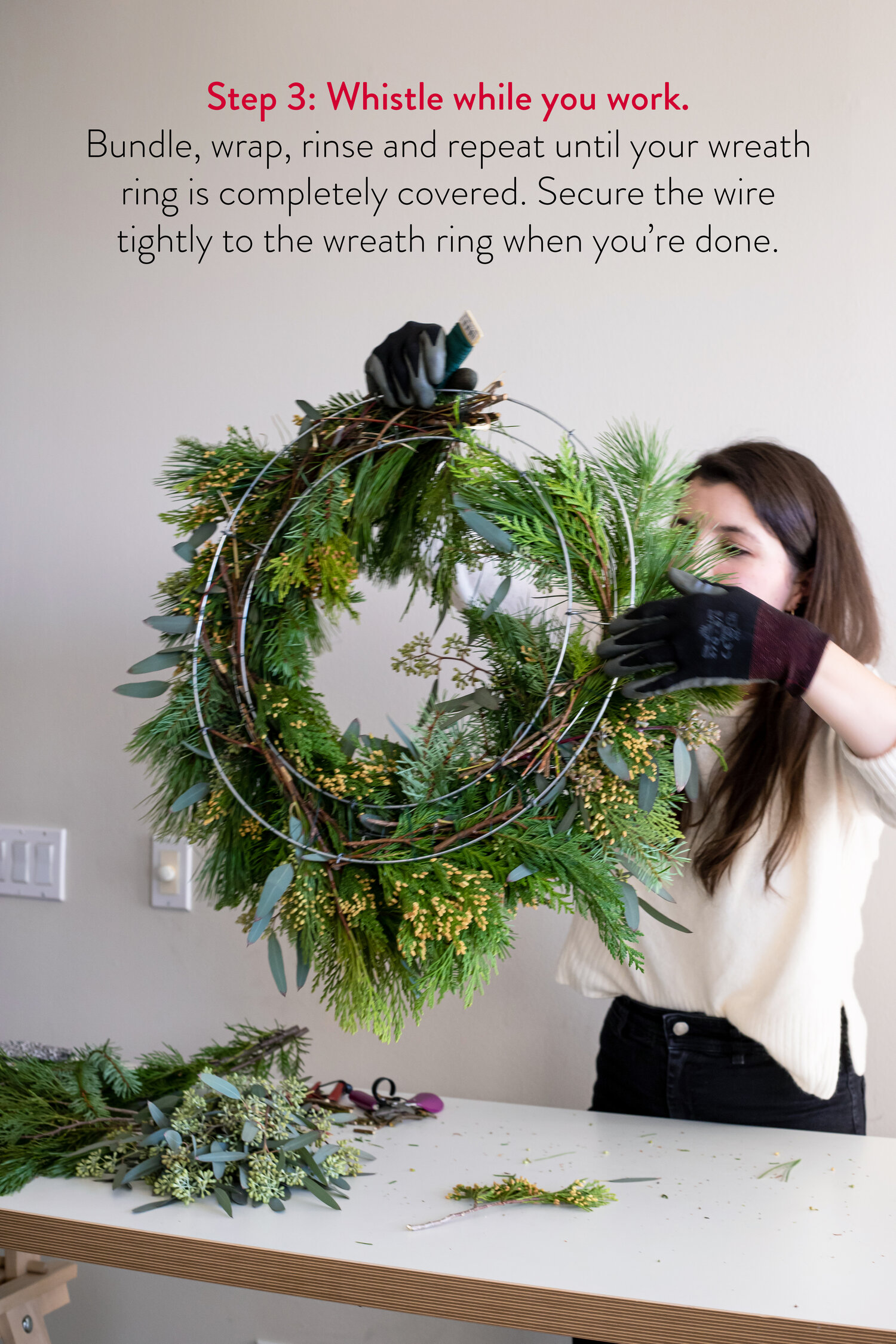 Step 3: Whistle while you work.
If you're a maniacal multi-tasker like us, zoom your craftiest partner in crime or watch "Love, Actually" for the millionth time while you bundle, wrap, rinse, and repeat until your wreath ring is completely covered. Secure the wire tightly to the wreath ring when you're done.
Pro tip: Make your last bundle extra floofy to close the wreath seamlessly.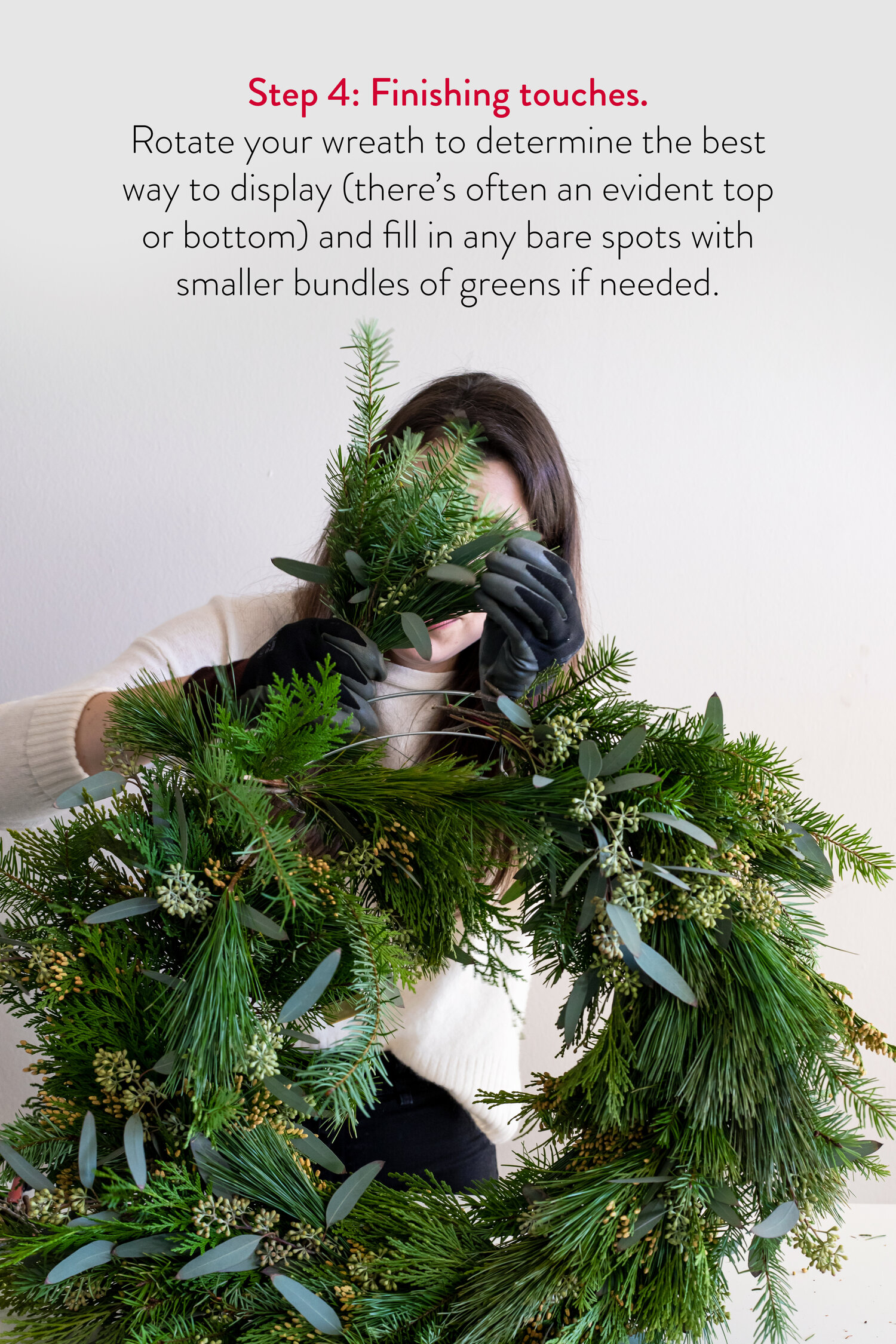 Step 4: Finishing touches.
Rotate your wreath to determine the best way to display it (there's often an evident top or bottom) and fill in any bare spots with smaller bundles of greens if needed.
Hooray - you're a holi-DIY pro! We'd love to see what you came up with. Please share your wreaths with us using #FGFLOVE on Instagram and Facebook!