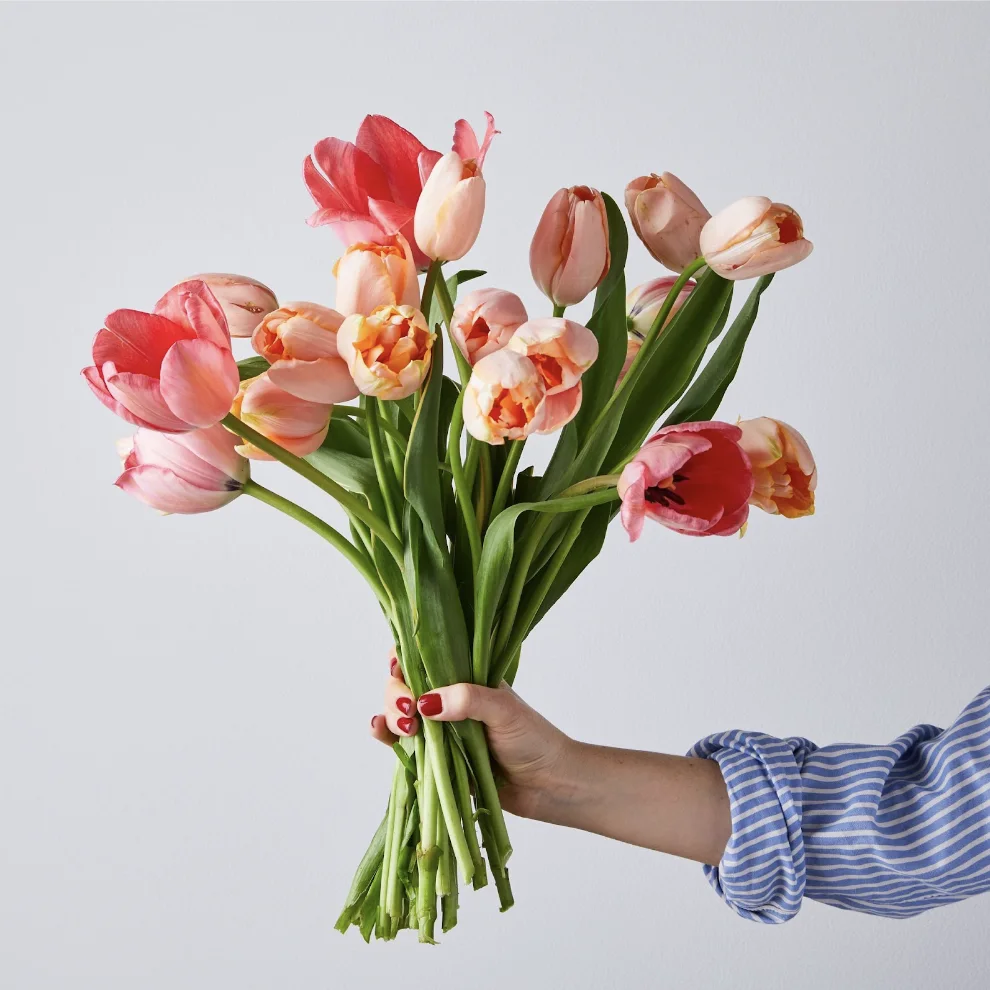 What's beyond the burlap here at Farmgirl? This month, we're excited to work with our friends at Seek Collective, a womxn-owned brand started in 2014 by founder Carol Miltimore in 2014. Seek Collective is a brand full of, by Miltimore's definition, "modern heirlooms" that are made in India through the methods of hand block printing, natural dyeing, handloom weaving, and hand embroidery. These processes, and the artists and communities that practice them, all embody the slow clothing movement. Many of these techniques require two months to complete - and this is all before a single stitch is made.
We're so excited this month to partner with Carol and Seek Collective! Our "Rhubarb Tart" specialty single variety arrangement features 30 stems of supersaturated, pink, fancy tulips wrapped in a remnant of cotton fabric that's been hand-block printed with a pattern from the line's Spring/Summer 2020 collection.
To celebrate the launch of this partner product, we asked Carol to give us a bit more insight into the brand. Read on below for her answers about the beginning of the brand, the inspiration behind her current collection, and more!
FGF: Tell us about the significance of the word "seek" as it relates to your brand.
Carol: The term "seek" is valuable to me for it represents a need I have to always be searching for in life. Seeking deeper meanings, better ways of doing things, knowledge, peace, connection, understanding, beauty, self-expression, and community. I feel I'm seeking all these things with what I design and how I produce. My hope is the concept of "seek" inspires others.
FGF: Are there any prints or designs you're especially excited about for the upcoming season?
Carol: I switched to launching small capsules each month, instead of one large seasonal collection two times a year. The most recent is a capsule of super soft handloom woven stripes. Each piece in this capsule, either blue sky stripe or the shoreline stripe, is super loungy and relaxed. I just wrote a blog post diving deeper into the sustainability of handloom weaving, which can be found on the Seek Collective website.
FGF: What's your favorite Seek print this season?
Carol: The Landforms print, inspired by the studio of sculptor Constantin Brancusi and the arid landscapes of Northern California. I've been excited about this capsule!
FGF: What's your top scarf styling tip?
Carol: I love to keep it voluminous and wrapped around my neck in a loose way.
FGF: Do you have any advice for women in the garment/clothing industry - particularly those who might want to launch their own line?
Carol: It is a tough industry on many levels. I personally found it helpful to gain experience working for different types of designers before starting my own brand. By doing this I was able to learn more practical production knowledge and see different ways of going about the business and designing. The apparel industry is incredibly oversaturated so I think it's important for someone to thoughtfully and realistically consider what they can bring that doesn't already exist and is unique before starting another brand.
Thank you to Carol and Seek Collective. Shop "Rhubarb Tart" right here! You can follow Seek Collective on IG here and on Facebook here and shop the newest capsule collection on seekcollective.com!