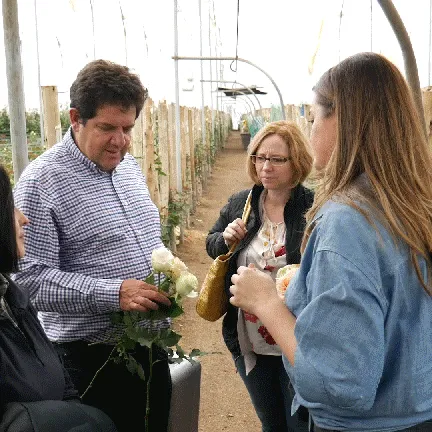 Hey there!
Christina here.
If you follow any of our social media accounts, you might have seen some of my team and I just spent a week down in Ecuador. (If you don't - and you're interested - you can see some highlights from our trip on our Instagram highlights!).
For those new to our company, you may not know how we started. Back in 2010, when I started Farmgirl, my mission was clear: build a great company that I'd want to buy from, sell to, and work for - and do all of that while supporting American farmers. I heard the stories from local farmers about their glory days in the 80s when their businesses were bigger than they could keep up with. They made it sound like something out of a music video - no rags, all riches. Then they talked about how that all went away with the Andean free trade agreement which made it cheaper to buy international flowers. And, as the stories went, it was downhill from there.
I think that my own childhood on a farm had something to do with it, but I remember (naively) thinking that I could save the entire industry by creating a demand for their product. I'd like to say that the image of Wonder Woman, perched atop a white horse, galloping towards the farms with her checkbook in one hand would have been an exaggeration, but in actuality, I don't think was too far off from what I was thinking. Um, savior complex anyone?
But we all know what they say about good intentions. My Wonder Woman ways ended pretty abruptly in 2016. After six years of sourcing exclusively domestic flowers, I'd hit a roadblock. If I'm being honest, I hit it way before that point. This was just the first year I was willing to admit that it wasn't working anymore. Why? That year - 2016 - we received 26% of our confirmed orders for the year from our domestic growers. Let that sink in for a moment. And in case it's not clear - no, you cannot successfully run a company when you only receive about a quarter of what you need to run that same company. The lack of supply was, without a doubt, THE biggest danger to my business. I needed to do something quickly about it. That, or quit - and quitting was not an option.
Before I keep going, I need to back up for a minute. One of the biggest surprises I've had since I started Farmgirl happened when I began going to the San Francisco Flower Market. I was getting up before the birds (like 3 am early) and heading to all the stalls to buy (and build relationships) with growers and wholesalers. I'd expected to find a sea of women - after all, it's often a woman behind the counter or on the phone at your local flower shop. Or a woman working with you at her studio to design the flowers for your wedding or event. On the other side of the "counter," 80% of consumers buying flowers each year are women buying for other women. Flowers, it seems, is an industry dominated by women. But, aside from the actual customers - the same women you see behind the counter at the local flower shop or design studio - the market was full of men. And, if you think about it, it makes sense. Flowers are big agriculture, and agriculture is dominated not only by men but by generations of men. Farms are passed down from father to son and on to the next and this has created a (very) old boy's club that I was unprepared for. And, as Farmgirl began to grow, it was a club we weren't invited to. And, as time went on, it was one we were systematically barred from, via (apparent) arrogance, ignorance, and what seemed to be blatant sexism.
I can't say that I know the exact reason I was constantly shorted orders (or flat out refused to be sold to), but after time after time after time after time, it became easier to begin to guess why I was getting shut out when it came to sourcing. When the only difference between you and the guy standing next to you is that he's a guy, and he's getting the flowers and you aren't, it was hard not to draw my own conclusions.
Since founding Farmgirl I've had to fight, and even threaten gender discrimination lawsuits so that I could have the right to purchase flowers from some domestic farms. And don't get me wrong - we have some amazing partners here. Some, in fact, that have been with us since the very beginning. Some who have even stood up for us when other wholesalers have threatened them to pull their accounts if they continue to sell to us. For those partners, we are incredibly grateful. And we show that gratitude through our continued partnership (and purchases).
But - the bad apples? The ones that "honey, sweetie, baby" their way through a "negotiation" with my team, while pondering the size of our chest instead of the size of our purchase orders. The ones that increase our prices overnight by 50% without notice (but not anyone else's even though we're their largest customer) and mockingly say to me, "That's supply and demand honey. You're a businesswoman, you should know that. You don't have enough local flowers, you'll need to pay more for them now." Or the ones that send me text messages that are tantamount to harassment. They call me names. They call me a "joke" or a "phony." And not because I've wronged them, or said something about them, but because I'm not buying enough from them. I just received another prime example last week from a local rose grower that you can bet I screenshot for a future book. Call me old fashioned, but you would think if a company wants you to buy more of their product (or to thank you for the $1M+ you've already spent with them) they would lead with being nice? And they're not alone. There are still farms that, to this day, will not sell to me. But will they sell to all of our (in my opinion), strikingly similar, often times smaller, male-owned competitors? You bet your bottom dollar they will.
I know what some of you might be thinking. Surely this is an isolated incident or, at worst, a few farms. It's not. And worse? It's not just the farms. The domestic flower commissions - organizations that are set up to help generate a demand for local flowers - are, in my experience, just as bad, if not worse. The former president of the California Cut Flower Association told me that it was my responsibility to the industry to stunt the growth of my company in order to allow the farmers to catch up. Yep - you read that right. That same person told me that the reason the farms he represented sold flowers to our newer, sometimes smaller, male competitors and not to us wasn't because I was female, but because we were unfunded. He said it "obviously" meant that we weren't going to be as successful as our funded counterparts, which, for the record, hasn't proved to be true. One of those competitors he referred to is now out of business, for the record. So, yeah, all these bad apples - and they know who they are - they are the why behind us needing to source internationally.
Back to 2016.
It was because of all of this that I made the extremely difficult decision to look for international farm partners. This was a decision I didn't make lightly, but it was also one I also didn't make quietly. From the moment I decided to pursue international sourcing the first thing on my mind was figuring out how to tell you, our customers. In my usual fashion, I drafted a long letter to publish on our website, to send to our email list, and to post on all of our social channels. I distinctly remember pausing for a long time before hitting "send" on that email and holding my breath for a while afterward. Changing one of the things that made Farmgirl, well, Farmgirl, felt counterintuitive. I've always prided myself on trusting my gut. I'd built a business on it. From day one you'd trusted me with a different way of buying flowers - not choosing specific blooms but rather a daily arrangement I'd guaranteed my team and I would design using the best of the best from our growers. And again you all had made the leap to trust the little guy (or, rather, gal!) from San Francisco when we started shipping our daily arrangements all across the contiguous United States. But this was the first place I'd had to take Farmgirl where I wasn't sure our customers would follow.
I'd like to say it was luck but I think true credit goes to all of you - because follow you did. The outpouring of support I received via email and handwritten letters was unexpected, overwhelming, and completely affirming. I knew I'd made the right choice for the company but your support was proof I'd also made the right choice for our customers, as well.
Since beginning Farmgirl's international sourcing journey we've been fortunate to develop amazing relationships with some equally amazing farms. Agrogana, Agrocoex, and Sande are three of these exceptional farm partners, and it was this partnership that allowed for this more than generous visit to Ecuador. While this was not my first time in Ecuador, this was the first time I was able to spend more time on the farms, and exploring Quito, the incredible surroundings and, most importantly, spending time getting to know these incredible partners' teams and families. My team and I were treated to an incredible meal in the family home of the father of the owner of Agrogana. We spent a day ziplining off the (tremendously high and incredibly terrifying) cliffs of Banos, then hiking the waterfalls just outside the city. We walked through fields and fields and fields of flowers these farms had planted after my last visit, especially for Farmgirl.
It's not often that words fail me but there are a few that I can use to properly describe this trip. The generosity and hospitality of these farm partners are something I don't think I will ever forget. And, after years of having conversations with growers, asking them if they'd be willing to grow a specific variety of flower for Farmgirl, even with a guarantee of purchase on our end, only to be met with "another time" or "not now" or "uh huh" - to walk through literal fields of bloom after bloom after bloom after what I assumed was just another one of those conversations? Well, that was something else entirely.
I've received messages from some of you after posting some of our travel pictures on Instagram and Facebook. You were surprised at our choice to source from South America - because of the growing practices you'd read about and the environmental implications of importing flowers. I want you to know these (and many, many more) are factors I weighed heavily when making the decision to begin these relationships.
Ultimately, I was able to move forward with these farm partners by gut-checking their practices and values by the benchmark that I built. Would this help Farmgirl be a company I'd want to buy from, sell to, and work for? Does this farm have values and practices that make me want to buy from, sell to, and work for it? And, ultimately, that answer was yes. These farms are providing good jobs for their employees, supporting not only them but their families through creating affordable housing, schools, services like doctors and dentists on staff, at-cost daycares, and other infrastructure and projects to support their teams well. And where we leave a footprint in transportation, we try to tread lightly in the other area of the floral industry that is notoriously environmentally unfriendly: packaging. The plastic that flowers are shipped, bought, and gifted in creates tons of waste each year. We not only wrap our signature bouquets and vase arrangements in biodegradable or recyclable materials like burlap and tissue, but we also work with our farm partners, domestic and international, to use similarly environmentally friendly wrapping and shipping materials. Last year, we were able to save over a ton of plastic through these practices. We're not perfect, but we don't claim to be.
And, on the subject of perfect, I want to note here that our commitment to reducing the waste that is rampant in the floral industry and embracing practices that are as environmentally friendly as possible is very much a journey, not a destination. There is no point at which we will arrive. But, I feel like as often as we talk about this commitment we hear from customers who are talking about what we're not doing, and how we could be better. And while my team and I appreciate that we have such passionate, empowered, and educated customers, it can also feel like the moment you put yourself out there and state your intention to do better, you're held to the standard that you must do everything better. And let me tell you, that feels impossible. If you're one of those customers - first, thank you. Thank you for being a fan, a follower, and a supporter of Farmgirl. But I have to ask a favor. The trust you give us when it comes to your flowers - we ask that you give us the same when it comes to running this company in the most environmentally conscious and responsible way. I guarantee that I've personally considered every suggestion you've made (and will make). I've weighed the costs and benefits and moved forward with everything possible that still allows me to run this company, to provide good, non-tech jobs, and to provide you all with a beautiful and accessible (price-wise) product possible.
If you're still reading - gold star! Per the usual, this was a long one. And for those with a bit less patience, here's the summary. There are a thousand reasons we made the decision (and continue to make the decision) to source internationally, and we assure you we've weighed all the cons with the pros and we've made the best choices possible considering all the factors. Ultimately, our goal is to provide all of you with the best, most fresh, and most beautiful product that we can and to do a little good along the way. And we couldn't do any of this without these truly amazing farm partners. It is with their support, and yours, that we are able to continue to live this crazy dream of mine and to grow Farmgirl into the big business I always knew it could be, even when it was just a one-woman operation in my tiny San Francisco apartment.
Thanks for reading!
xx
Christina