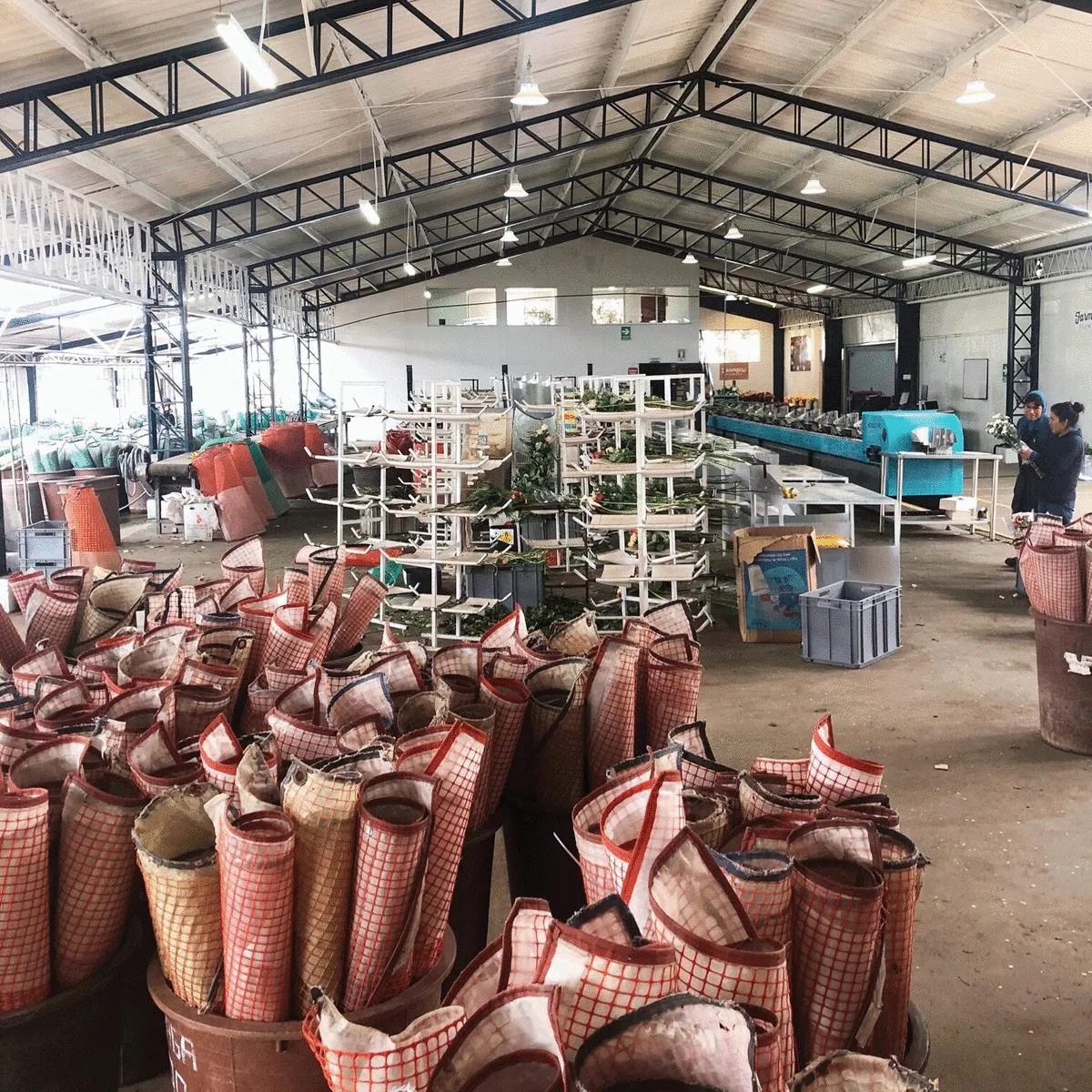 Hey there!
If you're in the habit of reading our emails, you may have seen one I sent a few weeks back about the new year and some new things coming up for Farmgirl. In case you didn't - here's the summary: 2020 is going to be a year of big change for us.
This year marks Farmgirl's 10th year in business. It feels crazy to write that - when I was running this thing solo in my apartment, taking showers in a tub full of leaves because I'd hydrated all of my greens in it earlier, ten years felt so far away. But here we are. The days have been long (and I mean long) but the years have felt incredibly short. And while there's so much about Farmgirl that has stayed the same - the burlap, the scrappiness, the heart - there's so much more that has changed. What worked for a one-woman, less-than-100-square-foot operation is very different than what works for a 160+ person operation in a warehouse with 300 times the amount of space. And so, ten years in, we're using our upcoming anniversary as an opportunity to evaluate what's working and what's not and to switch some things up so we can make sure we're around for another 10 years.
For a lot of companies (and a lot of people) change feels scary. And that makes sense. After all, at our core, we're creatures of routine, right? For so many businesses, resting on the laurels of past success isn't done because they value tradition, but because they fear the risk of trying something new. What if it fails? What if I fail? That fear is enough to send founders and CEOs running for the hills. But since that first day, and that first shower in a tub full of greens, embracing change and running headlong into this sort of unknown has been as much a part of this company as the burlap we wrap our bouquets in. The story of Farmgirl is, at its heart, about pivots. And while the narrative of how I started this company in my dining room in San Francisco is pretty well documented, the story of how every growth spurt has been fueled (or more like fired) by a pivot is far less known.
As a word, pivot sounds gentle - an adjustment here, a quarter turn there. It's a tweak rather than a total change in course. But in the startup world, and particularly the unfunded startup world, it feels like anything but gentle. It's during these particularly challenging periods of change that we are required to be at our grittiest. Whether it's completely overhauling our supply chain in three months or moving warehouses two weeks prior to our highest volume production period, these pivots demand that we dig in even deeper and force us to define Farmgirl not by what it was last year, last month, or even yesterday - but by what it will become. This year, 10 years after I started this company, we're making the biggest change yet.
When we started the process of sourcing internationally in 2016, I was fortunate to meet and create lasting relationships with farm partners we continue to work with to this day. In the three-plus years we've been connected, I've made many trips to Ecuador to visit their farms, review flower projections, and talk about future growth plans. On these trips, I've been struck, first and foremost, by the people. Much as it is in the US, agriculture is a relationship-based business in Ecuador, but it feels different than the prolonged conversations and handshakes I've engaged in to try to strike deals here in the states. There's been the usual formalities and meetings in conference rooms, but for the first time in Farmgirl's history, I've also been able to broker deals for exclusive growing programs and, at the same time, been invited to these farm partner's homes to meet their families and get to know them on a personal level. I've shared a meal with them, their spouses, and their children, and was welcomed to their table as if it were my own home.
In recent visits, I've also come to know more about the political and economic climate of Ecuador. I've driven by factories with lines of workers waiting outside, only to drive by many hours later and see the same group still outside, still waiting and hoping for even a partial day of work. Transportation to and from your home and the office is made difficult by a lack of adequate public transportation and is compounded by exorbitantly high vehicle costs and, more recently, a change in federal fuel subsidies. So, while unemployment is published by the government at rates just under 6%, other reputable sources put the actual rate (for both unemployed and underemployed citizens) at over 60%. This larger, much more telling number speaks not only to those completely out of work but also to the situation of those workers I saw that day outside of the factory.
While it's easy to oversimplify the economic and political climate in Ecuador, it's also easy to create a narrative of an American company playing the part of a white knight. We ride in to save the day, a job in hand for all who want or need one. But that's not the case here. I'm not (and have never claimed to be) a foreign economic expert - I'll leave that to the people with much more education and years in public office than I have. And the savior narrative? It just doesn't apply here. Before we began working together these farms were already providing good jobs, employing thousands of people collectively. And more than jobs, these farms built incredible communities. They've worked to build schools for the children of the teams, created an affordable housing program that provides members of their team with beautiful, modern homes, established food growing programs for the elderly, and water and wildlife refuge for their environment. They also offer incredibly robust benefits to their teams, including full medical and dental benefits and transportation to and from work.
But back to the unemployment issue. When I thought about those people I saw that day outside of the factory, it was impossible to not think about some of our own labor issues back in San Francisco. The team that has grown in our Potrero Hill warehouse is the best I've ever worked with. They're dogged, determined, and always, and I mean always, willing to get the job done. But we've also faced some difficult realities that have made growing that team and, in turn, growing Farmgirl, a very real challenge.
To date, we've been unable to keep up with our 50+ percent year-over-year growth due to two factors: labor and transportation cost. As we've continued to grow, we've been subsidizing our shipping costs (to the tune of millions of dollars per year) to allow us to reach customers across the country. Allowing our growth to reach the high double digits drives this (and other) costs even higher, and while we've been financing this growth the best we can, there is a certain threshold we can't cross without running out of money. And without outside growth capital to help fuel this growth, running out of money has never been an option.
Labor has been another story. Running a manufacturing facility in one of the most expensive cities in the world has been incredibly challenging, to say the least. While the people of San Francisco have been (and always will be) at the heart of Farmgirl, the city and its myriad of taxes and high rent has made it almost impossible to run a business here. The steady march of tech and intangible goods-based companies into the city has meant the creation of an environment that leaves little room for Farmgirl. Laws and infrastructure are, more and more, created to support and sustain startups and tech, not product-based businesses, and especially not manufacturing-based businesses. We, of course, are both.
What's more, with big companies moving in, the cost of rent and living for both Farmgirl and, more importantly, the people who make Farmgirl run, has skyrocketed. I've always done my best to provide great, non-tech jobs with the best benefits we can afford, but it's hard to make a living with an hourly job in a city where a 748 sq. foot apartment rents for an average of $3,733/month (at least when you keep prices as competitive as possible). Lastly, unemployment is at an all-time low, and Farmgirl, for better and for worse, is hard work. Our core value - grit - is exactly what makes us the best fit for some, and not a great fit for others. Flowers sound romantic and beautiful, and they are - for recipients. But the making of them is often dirty, cold, and incredibly physical. Long story short - we're not for everyone. So hiring - what was a challenge when we were a $1M, $5M or even a $10M company has turned into an impossibility now that we're a $30M+ company. Plainly, we've been unable to hire and sustain the number of people needed to continue to keep pace with our rapid growth. I don't think there's any better illustration of this than the staggering fact that 30% of our open positions went unfilled for the entirety of 2019.
I think it's tempting here, as I was tempted, to think about the rest of the United States as a better solution. Surely San Francisco, with its high rents and proximity to Silicon Valley, make it an anomaly? But, with the national unemployment rate closing out at 3.5% at the end of 2019, this is not an isolated issue. Moving to the east coast or opening up a new distribution facility in the midwest would mean a new local market, and lower shipping rates to some addresses, but the labor problems would be very much the same as what we have faced, and continue to face, here in California. This is coupled with pretty serious changes in the manufacturing sector - in 2019 jobs in this sector increased by only 46,000 new positions, a sharp downturn from the 264,000 added in 2018. Another key economic index in this industry also indicates that manufacturing industries are losing jobs faster than they're adding them. And I don't believe the core reason is what we most often hear about - that companies are moving them just to save a buck. That might be the reason for some, but from what I've personally experienced, as have many CEO's I've talked to facing similar challenges, nothing could be further from the truth. These statistics, while they help to normalize the 30% open rate Farmgirl experienced here in California this past year, more importantly, speak to what, at least in my opinion, is a dramatic shift in the perception of what a "good" job is. Entering an election year, manual labor and manufacturing tend to be topics that all candidates, regardless of party lines, campaign on and for. But I think it's particularly telling that the realities of these industries are glossed over and neglected in these statistics and campaign promises. The reality is, because of city, state, and federal legislation, taxes, consumer pricing, the unemployment rate, and in my personal experience the most important one being that the types of jobs employees both want and actively seek (and, believe me, I could go on) have shifted dramatically in recent years - that these jobs are sitting open for more complex reasons than what we hear and then oftentimes believe to be true.
The bottom line? The face of San Francisco and California, and, more broadly, the U.S., has changed dramatically since Farmgirl began 10 years ago. And so must we. Which means that it's time for another pivot.
As I thought about the realities of the situation in Ecuador and the struggles we've had in finding (and sustaining) our workforce in San Francisco, I began to see a straight line between the two. And by straight, I mean two plane rides with a connection through Miami. My team and I have been working on the strategy for a new distribution plan for the past three years, but we've always been focusing our efforts on the east coast. Ecuador is a bit further south than originally anticipated, but it would solve the same problems we'd been looking to solve with the east coast outpost. Namely - to offset the increase in orders between two facilities, which, in turn, places less of a labor burden on a single distribution center. And, in Ecuador, we can do this while we make a difference for so many who need and want jobs. It felt (and feels) like a way to solve all of our challenges - all while making a positive impact on many people's lives. And I don't know about you, but I can't think of a more important mission than that.
And so we turned to those amazing farm partners we'd met years ago when we first started sourcing internationally. It began with a visit that sparked an idea and evolved over a flurry of WhatsApp messages, Excel spreadsheets, brainstorming sessions, and many long nights, eventually solidifying into a plan. What if we joined forces to solve this problem in a way that would benefit all of us? What if we solved our labor problem by creating jobs for those who need them in an amazing country where so many of our flowers are already being grown and replicate the same model that has worked so well for us the past ten years here in California? What if we centralize production under one roof, rather than utilizing a huge network of bouquet makers and farm partners as some other companies do? And, by centralizing production, keep the same careful eye on quality and aesthetics that we always have, something that's impossible to do when you part out the design and fulfillment processes across multiple sites and partners. And, finally, what if we do all of this by joining forces with a few farms whose values truly align with our own, whose dedication to creating good jobs, strengthening their communities, and high-quality standards match our own and build something incredible together? And so, that's what we did.
So finally, the pivot. Now that I've explained the 'why' behind it, I'm excited to introduce you to the 'what' - our newest labor of love: Farmgirl South! Based in Latacunga, Ecuador, our South American team will make hand-tied bouquets the same way we do here in California: by hand and with heart. And, together, we'll ship orders to customers like you all over the contiguous United States.
Our team has been working incredibly hard the past few months to dot the i's and cross the t's on this new arm of our company and, while I know I probably sound like a broken record, I couldn't be prouder. Our team - both our SF and newer South American one - have dug in and learned more in the past few months than I ever thought possible, and from day one has brought an enthusiasm and a dedication to the process that has blown me away. Their drive when working on this project, supporting the training, technology, product development, and infrastructure changes needed to build out and operate from a new distribution center, let alone an international one, has completely exceeded my expectations. As a CEO you always have goals for your team and, beyond that, greater hopes for what you can maybe achieve as a team if you're fortunate - but this was something else entirely. I've seen members of my team put in the type of hours and work that rival my own. And to see my vision, and the vision of our farm partners, not just reflected by these individuals, but taken up and made incredibly real and tangible, as if this business were their very own, has been something I don't think I'll come close to forgetting for the rest of my life.
So - what does all of this mean? While it's a sea of change for the company, for most of you out there the difference will be subtle, if noticeable at all. As Farmgirl South gets going in earnest you may notice some new products, like our new (HER)Story bouquet or the return of the Minimalist. You also may notice some new stickers on your box. As some of our packages are making their way to you from our team down in Ecuador they're passing through customs and over borders and, in the process, are picking up a few "passport stamps" along the way. Nothing inside or how it gets delivered changes - the same Farmgirl box you've come to know and love over the years will just get delivered to your doorstep a little more decorated than it usually is! And that's really it. Same great quality, the same beautiful arrangements, just double the warehouse count and more talented, passionate, and dedicated team members than ever before.
It's inevitable that some of you will probably have concerns about the negative impact on the environment transporting flowers this far. And, believe me, I understand. But please trust me when I say that we have done the calculations to ensure that our impact is not far greater than it has been and that we'll also continue to do everything we can to continue lessening our burden as we go. What many might not know is that most of the flowers bought around the world today travel very far, and much of the time, much further than ours because of how many times they change hands between grower and consumer (and with each middle company comes another transportation method). By working directly with farms, we cut out several steps, and therefore trucks, planes, and sometimes even ships. We know it's not perfect, but we're working to continue to lessen our impact in many ways, this being one of them.
Whew! If you've made it this far, congratulations! You're a true blue Farmgirl fan. In typical fashion, I couldn't say something this important in less than a few thousand or so words. But, while brevity isn't my strong suit, transparency is. And just like I did when we changed courses and started purchasing internationally back in 2017, I wanted to give, at least to those who wanted it, some background on what went into the making of Farmgirl South. It's something I'm incredibly proud of, and hope you will be too - as I know we are making a real difference, which has always been my goal for Farmgirl. So many of you have been following me and my team for years now and, because of that loyalty, have given me the chance to continue to grow this business into the company it is today. And so it only feels right to you to take you along with us on this big, new step.
And last, some gratitude. Not only for the time you took to read this but for being here and for being a Farmgirl fan. Every time you buy an arrangement, or you tell a friend, a coworker, or a family member about Farmgirl (and maybe they buy an arrangement!) you help me and my scrappy team of rise and grinders and get-it-done-ers continue to build Farmgirl into the company I dreamed it would one day become: not exactly brick by brick, but stem by stem. Bouquet by bouquet. I'm incredibly grateful for every single order or good word you have to say about Farmgirl and, together, I'm even more excited to see where we go in the next ten years.
Thank you, always!
Christina